New feature: Limited Sets

Submitted by
Bruce Liebknecht
on Sun, 02/19/2023 - 09:45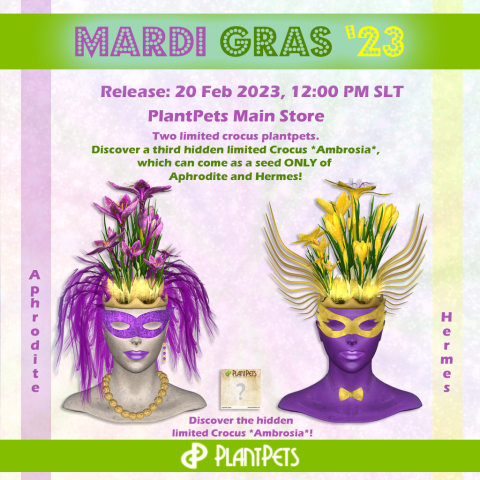 Tomorrow, Monday, 12 pm SLT, we are releasing two limited crocus plantpets, dedicated to Mardi Gras '23, Crocus *Aphrodite* and Crocus *Hermes*. With them, we are adding a new feature: Limited Sets!
These two limited plantpets will be in a set with a third hidden one, Crocus *Ambrosia* to be discovered as a challenge by breeding Aphrodite and Hermes. Being in a set means that any limited from the set will be able to give as a seed any of the limited edition plantpets from the same set.
The two limited edition seeds can be purchased directly from the PlantPets Main Store. They will be available to purchase for 3 weeks only until the 13th of March!