Twisted Tree Chairs

Submitted by
Bruce Liebknecht
on Mon, 10/30/2023 - 19:09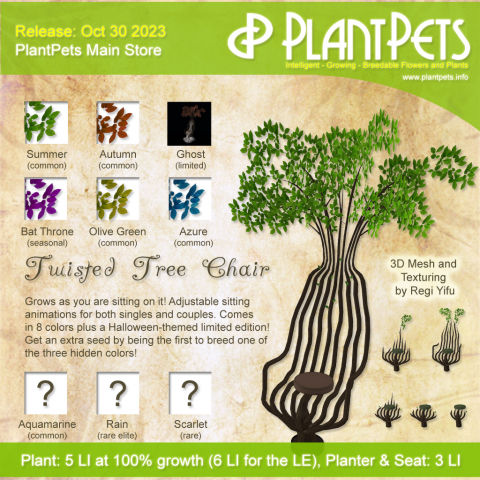 Today we released a new PlantPets species: Tree Chair. The mesh for the tree chair is an original artwork of Regi Yifu who collaborated with us on creating 9 chairs that grow and produce baby seeds as you sit on them!
Check them out in your web catalog at https://plantpets.dejapi.com/?q=catalog&species=Tree%20Chair and also come to try them in the PlantPets Main Store.
These are 5 common chairs, 1 seasonal, and 2 rare ones, plus a Halloween-themed limited edition. Each chair comes with adjustable animations for both singles and couples. You can purchase four of the common ones at the PlantPets Main Store. For a limited time (until Nov 20) we also sell the seasonal and the limited chairs. Three chairs are available only through breeding other chairs and the first avatar to breed them will receive a second seed as a reward.